Our Story
---
Family's Winemaking Philosophy
Rolling hills and undulating vineyards formed the back drop for Simon and Maaike Berns' travels through France in the eighties. The couple experienced the food, the wines, the French passion for growing grapes, making their own wines and their love for live 'savoir vivre'. It was this inspiration that Simon and Maaike took back with them to Perth.
Simon showed his interest for viticulture and possibly making some wine for family and friends. So the couple purchased land in the Swan Valley in 1993 and began to plant a vineyard on weekends. Initially Verdelho, a Portuguese variety, Chardonnay and Shiraz were planted. Later other varieties such as Petit Verdot and Tempranillo, suitable to the Swan Valley's hot climate. More recently fruit has been sourced from their vineyard in Margaret River and fruit purchased from Frankland River.
In 1997, a winery and tasting studio was erected but the question arose: how to make this passion a business? They seemed to go past the idea of a hobby farm so with some trepidation Simon and Maaike opened a restaurant and cellar door during Spring in the Valley in October 1998.
The couple cautiously opened during the weekends. Maaike decided to put her planned career in design aside, to make place for 'Sittella'. Her Dutch Indonesian background gave her a good insight in different types of cuisines.
Waiting and cooking at Sittella was the couple's weekend job for the first period. And now, looking back over almost 15 years , the winery and restaurant have grown into a successful enterprise. They have been joined by a team of professionals winemakers, chefs, and hospitality staff.
Simon, a GP continued practising and Maaike joined the ranks of Sittella's office for administration and marketing.
At Sittella's cellar door, their wines can be tasted and purchased, and Sittella's restaurant is certainly worth a visit. The menu is modern Australian cuisine and the view from the restaurant's verandah is quite inspiring. It also is considered quite idyllic for weddings.
Simon and Maaike are continuing to work on the Sittella "dream project". Soon they will embark on building a wine bar and plan to extend their sparkling wine production and facilities. With their son Yuri now graduated from Curtin University in viticulture and oenology and also working as a winemaker, their direction seems to go one way only: forward, striving for higher standards and good quality.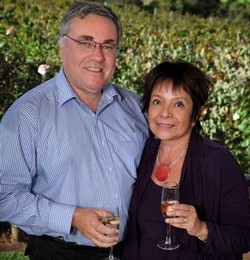 Photo by Phil England.
---
Awards
| Year | Vintage | Wine | Award |
| --- | --- | --- | --- |
| 2020&21 | | James Halliday Wine Companion | 5 Red Stars |
| | | | |