Tasting Room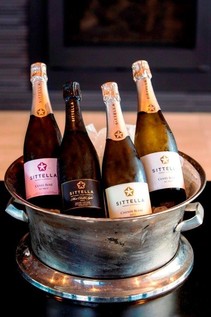 When visiting Sittella's Tasting Room we offer a selection of Wine Flights to suit most tastes.
On arrival our friendly staff will introduce you to our selection of Sittella wines including our Nationally acclaimed Sparklings, the Core Ranges, our Avant Garde Series and our Flagship wines.
Walk-in's are welcome, however to enable our team to provide you with an amazing tasting experience we request groups of 6 or more to advise us of your intended visit HERE.
Tasting Fees apply, redeemable purchases (T&C's apply)
If you would like to relax and stay a little longer, we can also offer you our Seasonal Wine & Cheese Flight.
An exciting new tasting option now available from our Cellar Door. With each season we will put together a wine flight which our team have 'tirelessly' researched for you to sit back, relax and enjoy, either in Cellar Door or if weather permits, outside amongst the roses.
This will include 3 half glasses of wine, paired with a selection of cheeses $35pp
Current Seasonal Wine & Cheese Flight options:
Spring & Summer
Three of our Swan Valley favourites - 2023 Chenin Blanc, 2023 Albarino & 2022 Tempranillo Touriga.
Chenin Blanc Vertical
Current release 2023 Chenin Blanc V's our 2022 & 2021 vintages. (We have a very limited number of back vintages available to purchase).
Available Tuesday - Sunday, 11am - 3pm
BOOKINGS ESSENTIAL FOR OUR SEASONAL WINE & CHEESE FLIGHTS: sales@sittella.com.au
Tour & Tasting
Our team have put together a new experience for guests to fully immerse themselves in the Sittella Story. An hour long experience will take you on a tour of our vineyard and working winery before indulging in a personalised tasting flight in our Cellar Door accompanied by a cheese platter.
Our 'Tour & Tasting' is a 1 hour experience, available at 10.30am Tuesday - Sunday and a cost of $45pp.
Bookings essential via email at sales@sittella.com.au